Our Naperville Dental Office is Now Offering Lumineers by Cerinate!
Could Your Smile use a Facelift?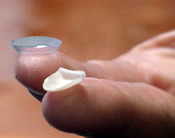 Contact-Lens-Thin to Save Your Tooth Structure * No reduction of sensitive tooth structure * No shots * 2 easy dental visits * Permanently whitens
Your teeth are healthy, and so are your gums- but something is missing from your smile. Your teeth might be yellow, have small chips or cracks, or be slightly uneven. If this sounds like your dilemma, you might be a candidate for porcelain veneers. At Sherman Oaks Dental, we now offer Lumineers™ by Cerinate; a semi-permanent cosmetic solution for all kinds of smile problems that often requires no or minimal tooth reduction or anesthetic.
Unlike traditional veneers, Lumineers™ can make your smile more beautiful without the painful removal of tooth structure. Lumineers™ are porcelain veneers that can be made as thin as a contact lens, are placed over your existing teeth with minimal prep, and can last up to 20 years.
This means:
Misaligned, chipped, cracked or stained teeth can be quickly and easily refaced.
Gaps and spaces will disappear behind the perfectly aligned veneers.
Teeth will always look white and attractive.
Uneven or unattractively long gumlines can be visually corrected.
There is no need for drilling or the painful removal of enamel.
In most cases, no anesthesia shots are even needed!
The procedure can be reversed later if desired since the teeth are not damaged in any way by the application.
Many patients with minor orthodontic problems can easily correct their smile with Lumineers™, which look and can be cared for just like your real teeth. You can continue eating and drinking everything you normally did before the procedure. Make certain that you continue visiting your Naperville dentist regularly for cleanings and checkups, and maintain a good oral hygiene regimen.
Each patient's case is different, depending on the smile to be created and what needs to be corrected. Dr. Weyneth, one of the best dentists in Naperville, will determine the plan of treatment and let you know what the cost for your veneers will be after a thorough examination.
Do you long for a more even, shinier appearance when it comes to your teeth? Call us today at (630) 473-3843 or schedule an appointment for more information on Lumineers™ and how they can improve your smile!