Dental Bonding in Naperville
Many of us have problem areas that we seem to zone in on when we look in the mirror or see photos of ourselves. It's very uncommon to be blessed with a completely flawless smile, but the good news is that you don't have to give up on a dream of perfect pearly whites. If you have aesthetic issues, and you're looking for an effective, pain-free remedy, we may have just the answer for you. Dental bonding is a straightforward, fuss-free solution for chips, worn edges, and misshapen teeth. With this incredible treatment, our experienced Naperville dentists can transform your smile in no time at all!
What Exactly Is Dental Bonding?
Dental bonding is sometimes known as cosmetic, composite, or aesthetic bonding. It is a cosmetic dental technique, which can be used to address a whole host of common problems that affect the look of the smile.
This treatment involves using a form of dental material called composite to gently reshape the individual teeth. Your dentist will choose the best color match and then proceed to mold and shape the composite around your teeth to adjust the shape, size and finish. The result is a dramatically improved aesthetic, which will make you look and feel amazing.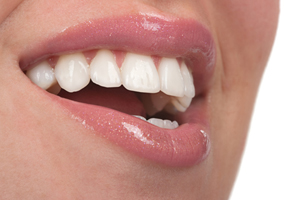 If you have minor aesthetic imperfections, such as chipped teeth or a gap between two of your teeth, we may recommend bonding as a hassle-free, highly-effective solution.
When Can Dental Bonding Be Used?
Dental bonding is a really versatile cosmetic dental solution, and it can be used to address an array of cosmetic concerns and imperfections. The most common examples include:
Gaps Between The Teeth
If you have a gap between two of your teeth, and you're not keen on braces, dental bonding offers a simple, swift alternative. Using composite material, your dentist can increase the size of the teeth slightly, reducing the gap between the teeth to create a more attractive aesthetic that will help you to feel more confident.
Tooth Chips
Your teeth are made from incredibly strong materials, but they're not immune to wear and damage. Even a minor chip can impact the look of the smile and make you feel uncomfortable when your teeth are on display. If you have a chipped tooth or a number of small chips, our experienced dentists can use bonding techniques to restore your smile with no pain at all.
Short, Small Teeth
If your teeth are uneven, and you have some teeth that are smaller or shorter than others, we have the solution. Bonding enables us to reshape and build up the teeth, creating a more balanced, beautiful smile.
Misshapen Teeth
If you're conscious about the shape of your teeth, we can help you to feel more confident. Sometimes, the teeth are naturally misshapen. In this case, we can use dental bonding to adjust the shape of individual teeth to create a more uniform appearance.
Receding Gums
If your gums have receded, and the roots of your teeth are exposed, we can use dental composite to cover the roots and make your smile look healthier and more attractive.
Fractured Teeth
If you've cracked a tooth, we can bond the tooth to prevent further damage and maybe even eliminate the need for a dental crown.
What Does The Dental Bonding Procedure Entail?
Before we start the procedure, we will carry out a thorough oral examination and talk to you about bonding, the benefits it offers and the ins and outs of the procedure. We will clean your teeth, and when you're ready, we'll get started.
The first stage is to apply a substance to your teeth, which will enable and facilitate adhesion. Next, our skilled, creative dentists will select the shade of composite that is the closest match to your natural tooth shade, and set about shaping and molding the composite to bring about the desired results. Depending on the issue that needs to be addressed, your dentist will use the composite to repair chips, close gaps and reshape the teeth. At room temperature, composite is similar in texture and composition to putty. When we're happy with the placement of the composite, it will be set firm using a UV light. The tooth will then be filed and polished to give your smile those all-important finishing touches.
Dental composite is not as strong as tooth enamel, but it can last up to 10 years if you look after your teeth well. We strongly recommend brushing twice-daily, flossing daily, and checking in with your dentist every 6-12 months to keep your smile in pristine condition.
The Benefits of Dental Bonding
Many of us long for a more attractive and beautiful smile. With dental bonding, minor flaws don't have to hold you back. This treatment offers an array of benefits, including:
Incredible results
Speedy treatment: in most cases, you'll only be in the dental chair for around one hour
Painless: you won't feel a thing and you won't need any anesthetic either
Affordable: bonding is a more affordable alternative to veneers and braces
Increased confidence: with this treatment, you don't have to be self-conscious about chipped or worn teeth or gaps in your smile any longer.
Is Bonding The Right Option For Me?
If you have minor aesthetic imperfections, such as chipped teeth or a gap between two of your teeth, we may recommend bonding as a hassle-free, highly-effective solution. If, however, you need more extensive treatment for more profound or widespread cosmetic problems, dental veneers may be better suited. We will explore the treatment options with you when you have your consultation, and we can make recommendations based on your individual needs and treatment expectations. We'll be happy to tell you all about our cosmetic dental services, answer your questions and make sure you have all the information you need to make the right decision for you.
Schedule An Appointment Today
If you're interested in dental bonding in Naperville, and you're looking for friendly, experienced dentists you can trust to put a smile on your face, schedule an appointment with us today!