Invisalign in Naperville, IL

Crooked or misaligned teeth not only look unsightly, they can also make cleaning your teeth difficult. Teeth that cannot be properly cleaned can eventually lead to periodontal disease, a large buildup of plaque, or cavities. This also can create a risk of gum and bone damage, and eventual tooth loss.
Wearing braces is a way to properly align the teeth. However, conventional braces are less than attractive, decidedly uncomfortable, and can be painful to wear. Adults can be especially embarrassed to wear them. Teens & adults alike, have enjoyed having Invisalign as an easier treatment option to get the beautiful straight teeth. Sherman Oaks is proud to offer Invisalign to our naperville patients. Now is your chance to get the smile that you've always wanted without having to wear embarrassing braces!
What Is Invisalign?
Invisalign is a revolutionary orthodontic treatment method using clear plastic aligner trays that fit over your teeth. Each set of trays is customized to move your teeth gradually into a straighter position. Over time, your teeth will align to a look more even and healthy. Invisalign's clear aligners are made using 3D computer imaging technology that custom tailors the aligner to your mouth. Time and time again it has been proven to be a convenient and effective solution for straight teeth in teens and adults.
Why Should I Choose Invisalign?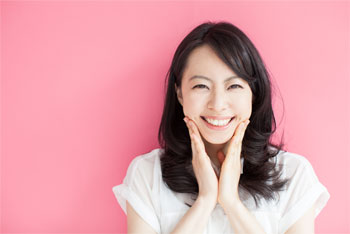 Patients looking for Invisalign in Naperville trust Dr. Weyneth's expertise and experience.
Request My Appointment
Not only are Invisalign aligners virtually invisible, they are also removable! You can eat and drink what you want while in treatment. Plus, brushing and flossing are a breeze compared to the complicated, and time consuming maintenance of traditional braces. They are also more comfortable than braces, with no metal or wires that could poke and prod the inside of your mouth. You won't also have to worry about long visits at the orthodontist getting adjustments every few months.
The Invisalign treatment also allows you to view your own virtual treatment plan when you start. Dr. Weyneth will be able to show you how your straight teeth will look when your treatment is complete! Here is a quick guide some of the benefits of Invisalign:
You can take the aligners out to eat, drink, brush and floss.
No emergency visits for broken brackets and wires.
Virtually invisible.
Made from SmartTrack material, for more predictable, controlled tooth movements.
Each aligner is trimmed based on each user's gum line for better comfort and appearance.
In many cases Invisalign treatment takes only six to fifteen months to work.
Each set of aligners can be worn for two weeks, during which your teeth slowly shift a tiny amount with minimal pain or discomfort.
You only need to visit Dr. Weyneth every 8-10 weeks to have your progress checked.
How does Invisalign work?
Once you begin treatment you will wear each set of aligners for about two weeks time. You should only remove them to eat, drink, brush, and floss. As you progress with each aligner during your treatment, your teeth will move - little by little, week by week - until they have straightened to their final positions!
You'll visit Dr. Weyneth about once every eight to ten weeks to ensure that your treatment is progressing as planned. Total treatment time for patients averages nine to 15 months, but as mentioned above can be complete in as little as 6 months! The average number of aligners worn during treatment is between 18 and 30, but both will vary for every patient.
The Invisalign Treatment Process
Your Invisalign treatment begins with your consultation with Dr. Weyneth. He will analyze your bite and discuss what your goals are with using Invisalign. Once he has determined that Invisalign is the best tooth-straightening system for you, Dr. Weyneth will:
Take x-rays and impression of your teeth to create a digital image.
Map the movements of your teeth from their current position to the final desired position.
Have custom-made clear aligners created specifically for you, to wear through the day.
Monitor your progress and have you change aligners every two weeks, advancing you to the next stage of your treatment.
Each time your aligners are switched, your smile is being gradually improved and becoming straighter. Patients looking for Invisalign in Naperville trust Dr. Weyneth's expertise and experience. They appreciate that the aligners are nearly invisible and can be take out if needed. But do keep in mind that although they can be taken out, the aligners should be worn 22 hours per day for maximum effect.
Invisalign Before and After
As you are well aware, a picture is worth a thousand words. Photos, illustrating Invisalign before and after transformations, can sometimes give you the best idea of the problems that can be solved and the impressive results that can be achieved by wearing these high-end aligners.
Here you can see how invisalign has helped change the lives of these patients to build their confidence and change their lives for forever.
Why choose Sherman Oaks Dental?
Our Naperville family dentist, Dr. Weyneth has built his practice on uncompromising excellence. He focuses on the patient and the issues that are important to them. He has a team to back him up and together they have many years of experience to provide the care you need. From the moment you walk in discuss Invisalign you will know you are being cared for and listened to. We do not compromise our values and strive every day to work the hardest we can to provide you with what you need and answer any questions and concerns you may have.
Schedule An Appointment
If you have considered Invisalign and are looking for a cosmetic dentist in Naperville to help you change your smile and your life, schedule an appointment with us today!