It's important to know the advantages and disadvantages of different treatment options for dental care in order to pick the one that's the best fit for you. If you are in the market for teeth replacement, you might ask yourself if dental implants are the best choice. They do, in fact, have many advantages over other types of treatment.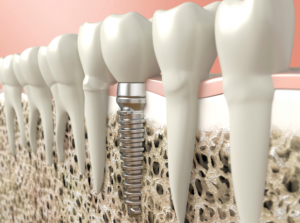 Perhaps the greatest advantage of dental implants is their immense convenience. Unlike dentures, dental implants are permanently anchored to the jaw bone, and these anchors are what support the prosthetic teeth. Since they are anchored, you won't have to worry about what you eat or when you eat it, and you won't have to endure the endless hassle of taking dentures out and putting them back in, over and over. The added security also means that your new teeth won't slip when smiling or talking, helping you avoid the annoyance and embarrassment of having to adjust them.
Another important advantage of having dental implants permanently anchored to your jaw that might not be as apparent is the support and protection the implants give to your bone structure. When the dental implants bind to your jaw, that bond prevents the degradation of the bone that often accompanies tooth loss. The implants also support your other teeth, keeping them from shifting toward the empty space. The implants can even hold up the rest of your face – sagging of the lips and mouth is something that is often seen in denture users, but is prevented by dental implants.
Dental implants provide an excellent mix of security, convenience and support for your mouth that can't be found in other treatments for missing teeth. They provide a strong, confident smile that won't slip and won't keep you from eating the foods you love. They do more than just replace teeth – they actively keep your remaining teeth and gums healthy. Finally, dental implants are considered simpler and more reliable than other treatments, such as bridgework and endodontic therapy.
Our own Dr. Brian Weyneth, one of the best dentists in Naperville, can offer you some of the best dental implant work you'll ever get. Contact us today to see if dental implants are right for you!