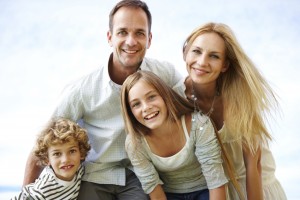 What parent isn't busy? We know that it takes time to schedule appointments for everyone in your family. It is hard to balance all of the places you and your kids need to be on a daily basis. You should not have to do the same for your dentist appointments. But what is the difference between a general and a family dentist? Learn here and why you should choose Sherman Oaks Dental as your Naperville family dentist.
General Care
A general dentist receives extensive training and education. General dentists have a primary goal: to maintain a healthy smile. While this is also the purpose of all dentists, general dentists may restrict their patients to a specific age group. This does not work if you have to make an appointment for yourself and your 5 and 9 year old children. You will be running all over town for dentist appointments and we know as a busy parent you do not have time for that.
"One Stop" Solution

A family dental office has the convenience of a "one-stop" solution for all of your family's dental health needs. Family care is unique because they provide a variety of treatments in the same office, whereas many practices are built around a specialty of some sort. They offer more than one specialized dentist in their practice. Whether you need a dentist that has experience with children or gum disease, you can find what your family needs in one office.

Extensively Trained

Similar to general dentist a family dentist is extensively trained. They must receive their undergraduate degree and attend dental school before they see any patients. The main difference between a general dentist and family dentist is that a family dentist performs dental procedures for all ages.

Focus on Each Individual

Family dentists focus on educating patients of all ages on teeth cleaning practices. Whether they're teaching a toddler proper brushing techniques, or showing an elderly patient the correct way to clean their dentures, family dentists will ensure you and your family maintains excellent dental care habits outside of the dental office.
The family dentist you choose should focus on providing a positive and safe dental experience for your entire family. We love our patients of all ages and backgrounds and find joy in working with every family we come in contact with. In search of a Naperville family dentistry? Let Sherman Oaks Dental be your choice. Give our office a call today.