At Sherman Oaks dental, we've been taking care of smiles for over 20 years! We have a state-of-the-art dental office specializing in treatments like dental implants, dental crowns, and cosmetic dentistry in Naperville. Our professional and experienced team is committed to making sure you feel great about your smile again. Here are just a few things we want you to know about your dental health: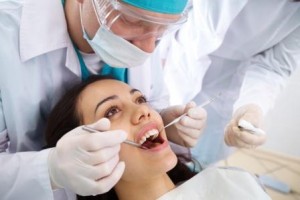 Dental Health Affects All Areas of Your Health

Did you know that the state of your dental health says a whole lot about other areas of your health as well? If you commit to making sure your teeth and gums are healthy, you'll have a healthier cardiovascular system, as well!

Bleeding Gums Can Mean Trouble

Sure, everyone flosses (or brushes!) too hard on occasion resulting in bleeding or sensitive gums. However, if you notice that your gums are bleeding regularly, you should call our Naperville family dental office as soon as possible. Bleeding gums are often a sign of gum disease.

Chewing Gum Can Help

Seriously! Chewing gum with the ingredient xylitol after every meal is been proven to prevent cavities in patients of all ages!

Avoid Soft Drinks

Soft drinks are known to erode tooth enamel, causing teeth to weaken. It can be tough to give up soda, so make sure you remember to brush after indulging in one to keep your teeth healthy.

Dental X-Rays are Not Harmful to Your Health

One of the most common concerns of our patients is that dental X-rays give off a harmful dosage of radiation. In fact, dental x-rays provide such a low dosage of radiation that there is no need to be concerned. Dental x-rays often catch a variety of dental issues before it is too late for treatment, making them too important to skip!

Floss Every Day

We know that flossing is a hard habit to form, but it's an important one to pick up! Floss once a day (pick a time that is convenient for your schedule) and make it a habit. Flossing is important because it removes cavity-causing food and plaque particles from in between your teeth.

Regular Dental Care Goes a Long Way

Visiting our Naperville office for regular dental cleanings and exams can keep your teeth healthy for years to come. Regular checkups allow us to pick up on any minor problems before they become major.

Eat Healthy!

Your regular doctor stresses the importance of a healthy diet, and so does our Naperville team of cosmetic (and general!) dentistry. Eating whole-grain and fiber rich foods do a lot in making sure your teeth are strong and healthy.

Chipped Teeth are More Vulnerable to Decay

Whether it happened playing your favorite sport, or while munching on some popcorn; if you have a chipped tooth, it becomes even more susceptible to cavities and decay. Visit our Naperville family dentist for a repair option that works best for you.

Teach Your Kids!

Dental decay is an extremely common childhood illness. In fact, dental decay effects about five percent more children than asthma. Keep your kids protected and healthy by teaching them proper brushing and flossing techniques at a young age. Kids also need regular dental screenings to make sure they stay healthy! The earlier you teach your kids, the more likely it is to stick!
Make your dental care a top priority by calling Sherman Oaks family dental at (630) 369-5225. You can also schedule an appointment with us online. We'll make sure you fall in love with your smile again!