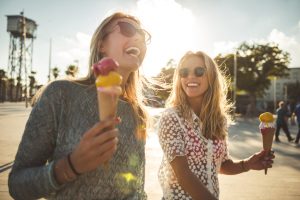 Tis the season for that new workout plan that will finally get you into that bathing suit you once wore! Summer is the time to get fit, get tan, and love the photos you post to your social media accounts. While you're setting your fitness goals, why not get that smile into picture-perfect condition, too? As some of the best cosmetic dentists in Naperville, we can help you hit your straightening, whitening, and general teeth-fixing goals!
Cosmetic dentistry doesn't usually come with the same associations as cosmetic surgery. But, with our cosmetic dentists in Naperville, you have some very similar options. You can choose the size, shape, color, or alignment of your teeth! Not only are most oral cosmetic issues fixable, but they are also convenient and affordable. We know what an impact your smile has on your life. When you're proud of your smile, you'll love those family photos, nail that job interview, and be the fun date that unabashedly laughs at jokes. Check out some of the services we offer here in Naperville:
These are the 21st century's answer to braces. Gone are the days of headgears and conspicuous metal. With Invisalign, your teeth will move to their intended positions with nearly invisible clear plastic trays. Much more discreet than the metal braces of yore, you will experience minimal discomfort, and no embarrassment. You need to wear these trays least 22 hours per day, but they are relatively low maintenance. Just be sure to keep up a regular oral hygiene routine.

If too much coffee, wine, tobacco, or other foods and drinks have yellowed your teeth, let us help you get back those pearly whites that dazzle when you smile. You can choose between a simple in-office technique, or the take-home kit that helps you whiten in the comfort of your own home and at your convenience.

Veneers are like the magic that transforms your mouth into that advertisement-worthy smile. When you have stains, gaps, breaks, chips, or misshapen teeth, veneers are the way to go. Your teeth will all look uniform, straight, beautifully shaped, and flawless. You'll work with our cosmetic dentists here in Naperville to get the look you want.
Don't wait any longer to get that smile you've been hoping for! Come to Sherman Oaks Dental to get your smile summer-ready.