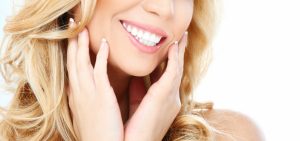 If you have misaligned, worn down, discolored or chipped teeth, Lumineers might be exactly what you're looking for. Made of a tooth-colored composite, dental Lumineers provide a shell that fits over the tooth. Extremely thin and white, these shells imitate the appearance of enamel and do an amazing job of brightening a smile. Carefully designed exactly for the shape of your tooth, a lumineer fits perfectly over the tooth and corrects any chips, gaps, or tooth defects. They also whiten teeth that are discolored or stained. Remarkably, these shells usually last for about 20 years.
What's it like to get the procedure?
This treatment usually takes two visits to be completed. The first time you come in we'll consult with you to understand what you're hoping to get out of the procedure. As your Naperville cosmetic dentist, we want you to feel 100% satisfied with your smile! For that reason we pay close attention to our patients' concerns and try to help them understand their options. In this first visit we'll also create an impression of your teeth. This impression, along with any other necessary records, gets sent to a laboratory where they craft the shells.
A couple weeks later, your Lumineers will have come back from the laboratory and we'll call you to come in for your next appointment. We'll make sure that they fit correctly, and once that has been confirmed, we'll lightly etch the contours of your teeth so that the Lumineers can be placed. After that, we'll bond the Lumineers to your teeth, you'll be all done!
Benefits of Getting Lumineers:
No more chipped, cracked, or stained teeth! A bright, even smile does wonders for self-confidence.

Unlike other options, minimal tooth etching and reshaping is necessary in order to place Lumineers. This makes the procedure significantly less complicated, and it ensures that your visit will be an easy, comfortable experience.

Lumineers offer great durability. They're extremely hard to crack or chip, and they typically last at least two decades! And in the case that you would like to have them redone or removed, they're quite easy to take off since they don't require any tooth-reshaping in order to be placed.
We hope that this article has helped you understand why we love Lumineers! Please know that if you have any other questions or concerns, we would be more than happy to speak with you. Schedule an appointment today!