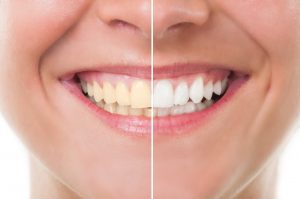 Will Whitening My Teeth Damage Them?
As a leading cosmetic dentist in Naperville, one of the most the most frequently asked questions to Dr. Weyneth is: "Will whitening my teeth do more damage than good?" The short and simple answer to this question is, no. Teeth whitening gel will not cause damage to the enamel of your teeth or the overall health of your teeth.
Interestingly enough, enamel is the hardest tissue produced by our bodies!  Even though enamel is the outermost layer of your teeth, there are tiny tubules that allow stains to penetrate through the enamel to the dentin tissue layer below the enamel. A successful whitening product will be one that passes through the enamel and begins whitening the stained dentin layer below.
What Should You Expect During Whitenings?
Some whitening products are more intense than others and may cause sensitivity for a short amount of time. The whitening gel will undergo a natural process from inactive to active, and as it does, the tubules that make up your enamel are left in a dehydrated state where they sit open and exposed. The saliva produced by your mouth contains a rich mineral solution that will reseal the tubules very quickly. Because of the cleaning process, it's important not to eat or drink any foods that could potentially stain your teeth. Your tooth will quickly absorb and colored food or drink it comes in contact with until the enamel has fully re-hydrated. Due to the exposed dentin, it's also highly advisable to stay away from extremes in hot or cold fluids.  Contact with extremes in temperature could lead to undesirable discomfort. If you experience sensitivity while whitening, discontinue until sensitivity is no longer an issue.
How Do You Avoid Staining Your Teeth?
Tooth staining occurs any time the tooth is allowed to dehydrate. Whitening gels use the same process to whiten your teeth instead of staining them. As saliva flow is restricted your teeth begin to dehydrate. This can occur on a daily basis through a number of different means including; breathing through your mouth, smoking, certain medications, radiation treatments, autoimmune diseases and other underlying medical conditions. It's important to be aware of this process since dehydration can occur in a matter of minutes but can take hours to re-hydrate them. If you're not sure your teeth are being dehydrated, check for the telltale white spots on your teeth. As the tooth becomes, re-hydrated, the white spots will disappear.
Schedule Your New Smile Today!
If you're looking for teeth whitening in the Naperville area come can visit our highly skilled staff at Sherman Dental. We're proud to be the home of one of the best cosmetic dentists in Naperville! We can't wait to show you how we can give you a smile you will absolutely love showing off!