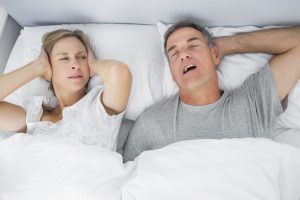 Snoring is a common condition that affects millions of people every night. If you get it every night and wake up tired every morning, you may have sleep apnea. What most of those people may not know is that sleep apnea treatment in Naperville is accessible through your dentist! While that may seem strange, let's remember that oral health is connected to almost all aspects of our lives.
What does sleeping have to do with my dentist?
Since your Naperville family dentist is familiar with snoring, its causes, and the solutions, we can help you get a good night's rest. Dr. Weyneth can help you determine the cause of your snoring based on the anatomy of your mouth, jaw, and throat. If you've already visited your ENT doctor for snoring, they may have referred you to your dentist to get mouthpieces fitted for snoring solutions.
How do I find the cause for my snoring?
There are several easy at-home tests you can try to determine what kind of snorer you are. Some snore through the nose, others through the mouth, and for some it's the tongue that's the problem.
Test #1: Try sticking your tongue out as far as it can go, then clamp down on it with your teeth so that it can't come back into your mouth. Try to snore. If you're able to still make a snoring sound, your tongue isn't the problem. But if you cannot make a snoring sound, your tongue may well be the problem!
Test #2: This is the simplest test (and the least embarrassing). Place your finger on your nose and close one nostril. Can you still breathe through the other side? Do this on both sides and determine if one of your nostrils collapses, making it hard to breathe out one side.
Test #3: Open wide and make your best snoring sound. Now try to replicate that sound with your mouth closed. Can you do it? If not, your snore may come from having an open mouth while sleeping.
If none of these three tests gives you a definitive answer, it could also be your soft palate or uvula that vibrate while breathing during sleep. No matter the cause, your Naperville family dentist can help you diagnose it and treat it. As one of the best dentists in Naperville, we look forward to helping you get the shut-eye you need to perform your best every day. Schedule an appointment to treat your sleep apnea today!