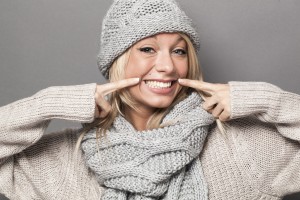 What is your New Year's resolution for 2018? For a resolution that will have lasting and beautiful results, add teeth whitening to your list.
The first thing people notice about others is their smile. If you do not have a white smile, you may not have as much confidence in your smile. Don't let this happen to you! Call your Naperville cosmetic dentist today to discuss your teeth whitening options.
Why are my Teeth Yellow?
Years of drinking soda, coffee, teas, citrus, and other things can cause teeth to yellow. Smoking or using tobacco can lead to serious staining, which is hard to cover up. The aging process isn't kind to teeth, either.
Unfortunately, far too many people neglect their teeth until they are too embarrassed to smile. As we age, our tooth enamel becomes thinner, which leads to the yellow appearance. The dentin layer is the inner layer of the tooth, and it too can yellow as you age.
Can I Use At-Home Teeth Whitening?
Should you consider at-home products for teeth whitening? The debate continues to rage with patients and dental offices. The best thing you can do is contact your dentist in Naperville to discuss teeth whitening. Certain at-home products do work, but it is best to speak to your dentist to ensure they will not damage your enamel. Over-the-counter kits sold in stores are not always effective for deep staining problems. But, most do a decent job handling slight soda staining.
Patients with gum disease, soft teeth enamel, or dental crowns will face different challenges when it comes to teeth whitening. Your Naperville cosmetic dentist can recommend teeth whitening kits that are designed for safe and effective treatment at home.
For Great Results, Get In-Office Teeth Whitening
If you need teeth whitening in Naperville, call our office to schedule an appointment. Our team will bring you in for a consultation to discuss the current state of your teeth and teeth whitening options. Some patients will see results in a couple of treatments, while others need to receive three or more treatments to start noticing a color change. If you have a lot of staining from smoking or drinking, we may need to use different treatment options to ensure your teeth will whiten.
Let the Sherman Oaks Dental team help you get your New Year off to a great start! Call us today to schedule a consultation and be proud to share your smile.